by Junita Thakorlal
Aston Martin cars have appeared in Bond films for over 50 years now, making the swoon-worthy actors look oh so suave and debonair. The same rule applies to socialites who work hard by day and paint the town by night. We spotted Sonny Walia, who handles operations at Walia Insurance, cruising the Vancouver streets in this esoteric British sports car.
"My parents founded Walia Insurance back in 1981. There were some tough, tough years in my childhood, I'm sure many immigrant families can relate," reflects Walia. "But my parents became pioneers for South Asians here in the insurance industry. Today, it's not uncommon to write $20 million deals."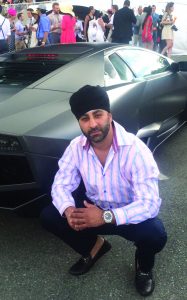 The Langara college grad was one of the youngest brokers in BC when he joined the business in 2001. When he's not closing insurance deals, he can be found in White Rock developing waterfront property under his eponymous company SWI Homes, where his sleek $350,000 Aston Martin DB9 V12 fits right in with the beautiful scenery.
Reasons why I drive a DB9:
1. Power – The V12 twin-turbo engine produces 600bhp, giving the driver enough power to get from 0-62 in 3.5 seconds, with a CO2 emissions reduction saving 12g/km. Exceptional performance, astounding shift speed, intelligent cylinder bank activation makes the DB9 clean and fairly fuel efficient for a supercar.
2. Luxury Interior – Wide cabin with legroom, specious trunk space, and exquisite interior finishes including carbon-fiber, unique hour-glass stitching on plush leather seats, and every gadget you would need make for the ultimate luxury ride.
3. Function Perfection – This car is engineered to function perfection. Every external panel is made from aerospace standard carbon-fiber, making for a lightweight yet structurally strong vehicle. The core technology combines components specifically selected to deliver superior strength and increased stiffness.
4. Bold Form – The iconic grille and clamshell top, beautiful proportion, and surface lines emanate class from nose to tail, oozing sophistication and sexiness as an expression of the driver just as it does for 007.
Favourite past-time: I'm a workaholic, but I also like to spend time with my sons. They love getting all the attention when they roll out of the backseat, gets me every time.
My first car: Infinity G20
My dream car: The Aston Martin DB11, and a Ferrari of course!