A Wish To Serve The Community Fulfilled!
Dr. Charan Gill will step down as the Executive Director of PICS at the Society's Annual General Meeting this June, in the thirtieth year of its founding by Gill and eight other people who saw a need for an organization that would work "for the community and try to fulfill the needs of the community, whatever the need."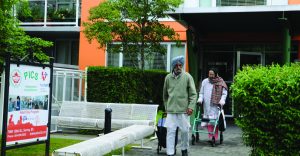 Over the three decades, PICS has become a vital service agency in the Lower Mainland providing critical housing programs, programs to assist new and recent immigrants to transition to Canada, settlement information, language training, drug and alcohol counselling, employment programs. Charan Gill reflected on his and PICS journey in a conversation with Ray Hudson of Aaarzu Magazine.
RH: How did PICS come about?
CG: Eight friends got together on one of the children's birthdays, talking about the community. I said that we needed a society that will work for the community and try to fulfill the needs of the Indo-Canadian community, because there was a need and our community was growing. So everyone put in $10 each, and that was the start of the society, the Progressive Indo Canadian Services, with $80. That was thirty years ago in 1987. A year later we decided we wanted to be inclusive, not just Indo-Canadian, so we changed the name to the Progressive Inter-Cultural Community Services Society. We started with our first Bingo, got some money and rented a place in Surrey and started providing services.
I went to Co-op Radio every week for three years, to inform the community about us and invite them to come and help. We wanted to educate the community by talking about various issues and why we needed services dealing with Parent-Child conflicts, support for newcomers. We got some support from the community and one of the first things we did was to ask the government to give us money to recognize the seventy-fifth anniversary of the Komagata Maru. PICS was the first organization to do that. So we put together a book "Beyond Komagata Maru, Racism Today" which is out of print now and another book, "Race Relations Today, History of Sikhs in BC."
I was still working as a social worker trying to train people for culturally appropriate services, in Joan Smallwood's Ministry. I was also the founding President of PICS as well as the Executive Director but it was suggested that I couldn't be President and work for the society, so I stepped down as President and became Executive Director.
Over the years I took lots of risks. Early on, we decided to relocate from our office space which was close to the Surrey Foodbank in Whalley. Our windows were broken every week, so we were forced to move. We bought a building for $90,000 that was just a shell. I used $50,000 from Bingo funds as a down payment.
So we started to outfit the building shell at 82nd Avenue, and 124th Street. We operated out of there for over 15 years, buying the unit next to us so we could grow. Twenty years ago we opened an office in Vancouver to service the population there.
From a staff of one, me, we went from three to eleven by 1987. PICS now has 150 staff, including 10 people at Pace Canada College, 17 staff in Vancouver and about 45 people working in the senior's housing.
We outgrew our 82nd Avenue location a few years ago and relocated to our current building on 80th Avenue which would house everyone.
Seniors Housing
In 1998 we recognized the need for seniors housing. We found people sleeping in their cars, farm workers who didn't have any money, so we purchased two acres of land at 121 St and 75A Avenue with a one-thousand dollar down payment, not knowing how we were going to pay. We took a great risk. At that time, Ujjal Dosanjh was the NDP Premier, so I lobbied him and received funding for this supportive housing. When the new Campbell government was elected some people said the new government shouldn't give us money, but we were already digging the ground. While the government was getting set up we kept on building and were now up to the second floor, even though there was still opposition that said we should stop. The Campbell government said they couldn't stop us at this point, but would help anyone else who wanted to create another society. Nobody wanted to take that on.
By 2001 we had the first people going in, and our profile went up when people saw the six story building in place.
Another advantage was that I put in the infrastructure for assisted living because of the need for Culturally Sensitive Assisted Living, where old people could enjoy the food that they were used to in their Indian culture. These people were very unhappy with other facilities that don't provide the food they've known all their lives. Another bonus is that our staff is bilingual and able to communicate with people in their own language. This has produced a very high level of satisfaction such that in the Fraser Region, our house came in number one in this category last year.
With that first house a success, it was very easy for us to start the second assisted living house because we already had a name as a society. People now felt we could do things.
Diversity Village
Of the buildings we erected, the assisted living building is now free of debt, so we are hoping that the province will provide some funding. This in turn will trigger money from other sources to fund our next project; the "Diversity Village" on 2.5 acres we own at 175 St and 64th Avenue. Our plan is to build a complex care facility with 140 beds. Some of it will be affordable housing, some assisted living and the rest for long term care. The building will offer child care for 75 children, function as a type of community centre, and have parking underneath. That's the plan now. The city of Surrey has been very good. We've already had first and second reading for Seniors Housing and we are only waiting for the public meeting, after which it will be all done. The federal government is on board, the City of Surrey is on board, all we need is the Province. Diversity Village is the project that I'm hoping to break ground on before I leave.
RH: What's your wish for PICS in the future?
CG: My mission is to see PICS live forever, work for, and be accountable to, the community, and try to fulfill the community's needs which will change over time.
Over thirty years I have given PICS over $21 million in assets. It's a great gift for the community. I want to see the community come in and control it and I would like people who are life members or other community activists to come and join us to make sure the new board does the right thing, and be accountable to the community.
RH: When you were a young man did you have any sense of the path you would take?
CG: My grandfather went to Russia as a revolutionary person. I came from a politically left group. As a young person I worked with the Farm Workers, organized the BC Organization to Fight Racism (BCOFR) and was its president. I was involved in the community from the day I became landed in this country. In 1978, Raj Chouhan and I organized the Canadian Farm Workers Union. Chouhan went on to become an MLA. I also ran for MLA quite a few times, but I rather preferred being a community worker where I was always contributing something. Along with Diversity Village another project I'm happy about is Harmony House, for the women who are beaten up and abused. I met all the community needs I could following what my heart said; to love and work for seniors, students and children. I've been very lucky. Everything I did became a success story. There were lots of risks and sleepless nights worrying about how we'd pay the mortgage. But it all worked out okay.
Personally I want some free time now because carrying a big organization like this is a big responsibility. It's been my first priority, even above my home. I didn't make any investments, I have only one house and one car, yet I'm happy with that. I'm very satisfied that I fulfilled my wish to do something for the community.