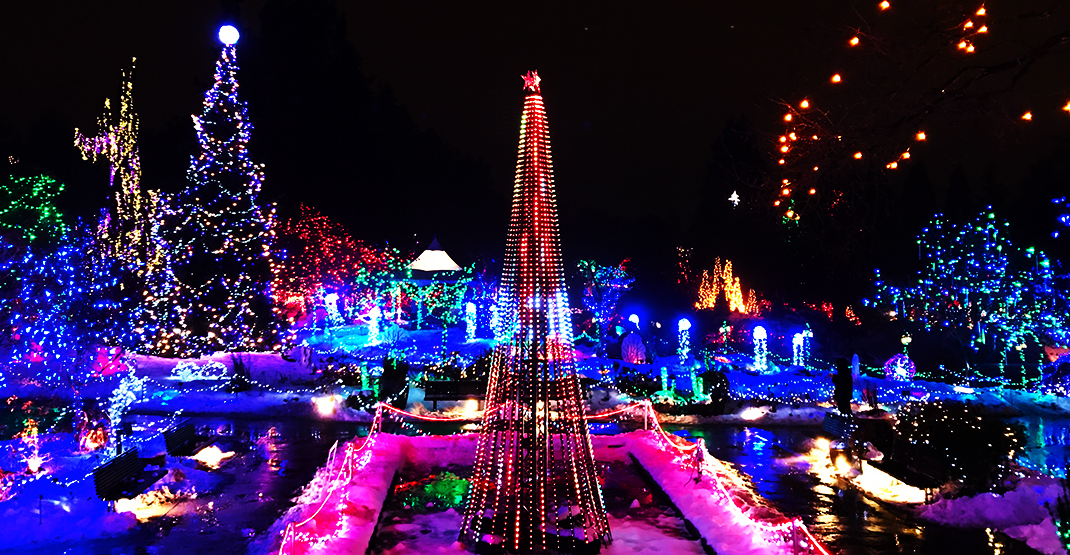 Vandusen Festival of Lights
Where and When

The Festival of Lights takes place at 
VanDusen Botanical Garden
 which is located at 5151 Oak Street in Vancouver. Its main parking lot is just off West 37th Avenue. There is also street parking along Oak and nearby side streets.
The garden is open for the Festival of Lights from 4:30 until 9:00 pm for the entire month of December, except for the 25th as it's closed on Christmas Day. From around mid-December until Christmas Eve, and then again from Boxing Day until New Year's Day, it is also open until one hour later, so until 10:00 pm.
Below are the hours of operation for the Festival of Lights on specific dates during the 2018/19 Christmas season:
December 1st to December 20th – 4:30 to 9:00 pm
December 21st to 24th – 4:30 to 10:00 pm
December 25th – Closed for Christmas Day
December 26th to January 1st – 4:30 to 10:00 pm
January 2nd to 6th – 4:30 to 9:00 pm
Note: VanDusen Garden is also open during the day on the above dates from 10:00 am until 3:00 pm. Regular admission rates apply during those times.
What to Expect, See and Do
In addition to the million spectacular lights, at the Festival of Lights there are scheduled dancing light shows that last about 8 minutes and take place approximately once every half hour. There are also other activities, like photo opportunities with Santa and live performances.
The lights at VanDusen themselves are wonderful and displayed throughout the different gardens and around the various ponds. They are spectacular!
At the Festival of Lights there is also a carousel that's suitable for folk ages 2 and older (and at least 36 inches in height). Admission prices include one complimentary ride per person.
Plan to stay at VanDusen Garden for the Festival of Lights for at least an hour, but probably more. And don't forget to take your camera!
Food Options
Looking for a place to eat before, after or in the middle of your Christmas light viewing? Then check out the Shaughnessy Restaurant just outside the VanDusen Garden close to West 37th Avenue at Oak Street for fancy dining (and Happy Hour with discounted drinks and appetizers between 3 and 5 pm most days).
For something more casual, check out Truffles Cafe by the garden's information centre or any one of a number of food trucks at the event. A couple of additional vendors will also be onsite in 2018, including one selling mini donuts.
Festival of Lights Admission
Admission to the Festival of Lights costs between $11.00 and $23.00 per person depending on your age, when you go and how you purchase your tickets. Tickets are less expensive when purchased online, and slightly more for the week of December 21st to 26th. Members of the VanDusen Botanical Garden get an extra discount and children ages three and under are free.
Below are the admission rates for Christmas 2018. All prices include taxes and online fees.
For the periods between December 1st to 20th and December 27th to January 6th:
Adults (ages 19 to 64) – $18.50 online and $20.00 at the gate
Seniors (ages 65+) – $14.25 online and $15.50 at the gate
Youth (13 to 18 years) – $14.25 online and $15.50 at the gate
Children (4 to 12 years) – $11.00 online and $12.00 at the gate
Garden Members (with valid card) – $14.25 online and $15.50 at the gate
For the week of December 21st to 26th:
Adults (ages 19 to 64) – $21.25 online and $23.00 at the gate
Seniors (ages 65+) – $16.50 online and $17.75 at the gate
Youth (13 to 18 years) – $16.50 online and $17.75 at the gate
Children (4 to 12 years) – $12.50 online and $13.75 at the gate
Garden Members (with valid card) – $16.50 online and $17.75 at the gate