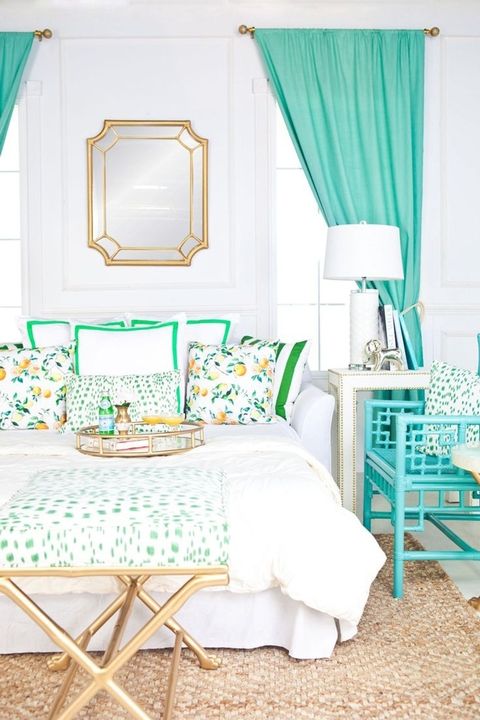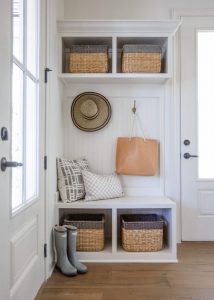 As the summer moves towards a close, it's hard not to think about the fall season ahead and 'getting back into the routine'. But before school begins, work picks up into full swing and the days start to get shorter, fit in this one last project for your home.
The mudroom, or area that acts like a mudroom, is an essential space to get you organized and keep you that way throughout the year. With boots, backpacks and briefcases coming and going, it is important to have a proper space to store them all.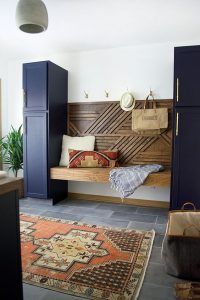 You will need to first determine your budget to know the scope and the materials that you will be able to use. This will help guide your choices between say, a custom built in piece, or a store-bought system that you can customize on your own. The advantage of having something custom, or semi-custom is that you will be able to measure the exact items you need to store in various cupboards and make sure that you have allotted enough space for them.
The next step is to determine the purpose and function of your mudroom. Is this space mainly used for children? Is it used for shoe storage? Jackets? Or all the above? If it makes sense to create a separate cubby for each member of your family, then all items belonging to each person should fit within this cubby. If the space is meant to be both storage and serve as a focal point, then avoid over-stuffing cupboards where shoes are pouring out of every basket.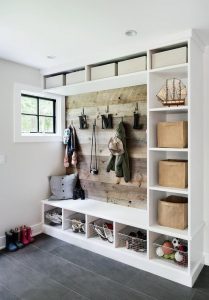 Lastly, consider your personal style and the style of your home. Select finishes that compliment the colour schemes, or style of your home. This way, the new addition will look like it was always there.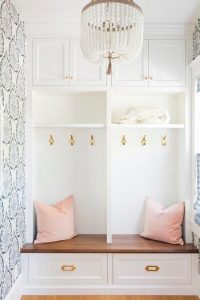 I find the best way to create a space that is flexible, stylish and works for you and your family is to start with a basic cubby system- and customize it with hooks, baskets and maybe even a padded bench! Having a mix of hanging, closed cupboard, and hook space is a great way to store a variety of items. Above all, plan your mudroom space before you begin. Create a space that accommodates all items you want to store so that it will function well for your home year-round.
Happy mudroom organizing!
Allie
A Stylish Home