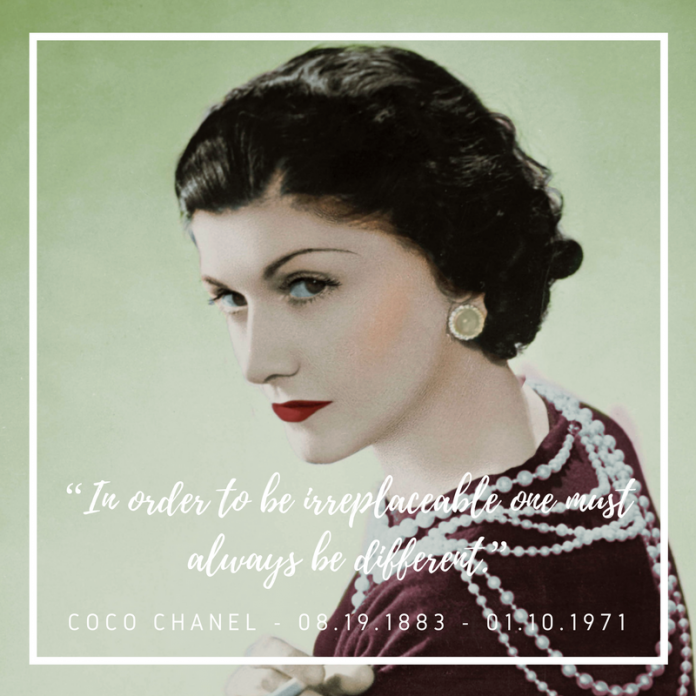 "Fashion has become a joke. The designers have forgotten that there are women inside the dresses. Most women dress for men and want to be admired. But they must also be able to move, to get into a car without bursting their seams! Clothes must have a natural shape." – Coco Chanel
I'm sure that most of you have heard Oprah Winfrey's epic acceptance speech as she received the Cecil B. de Mille Award at the 75th Annual Golden Globe Awards this past weekend. We are now in an era where women don't dress for men but want to be admired. We are now in an era of "Me Too" and it's in-depth meaning. We are now in an era where there are more Coco Chanel's then ever before so it just made send that we introduce our "Women Wednesday" with a lady that every fashionista admires!
Coco Chanel was a leading French modernist designer. She was known for her patterns of simplicity and style which truly revolutionized women's clothing. She helped pioneer, the collarless cardigan jacket, the bias cut dress, the shoestring shoulder strap, the floating evening scarf, wearing artificial and real jewels together, and of course, trousers and suits for women.
She was the only designer to be listed in the Time 100 most influential people of the Twentieth Century. She prided herself on her great taste, fashion and practicality combined with an awareness of what people wanted. It was this that made her the most recognizable name in world fashion. Chanel was an innovator in many aspects of fashion. She developed a new kind of jewellery which imitated much more expensive jewellery. It enabled wealthy people to keep their expensive jewellery at home.
During the 1920s, in particular, Coco Chanel left a lasting mark on women's fashion and design. Many biographers have said that Coco Chanel remains an enigma – a life full of contradiction and hard to ascertain her real motives.
Reference source: www.biographyonline.net