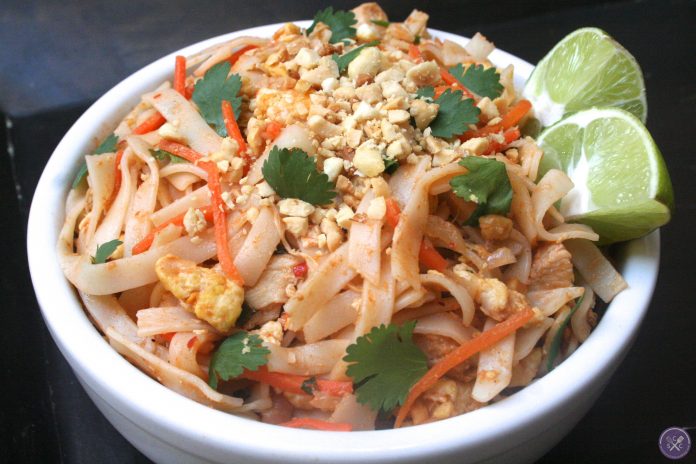 This is my "cheater" recipe for the best homemade chicken pad thai ever!  It's a great weeknight option when you are short on time but want a delicious meal on your table that everyone will enjoy…including my mother who stole my recipe when she heard my father keep saying between mouthfuls "this is too good!"

Ingredients:
2 boneless, skinless chicken breasts chopped into bite size pieces
1 large red pepper, thinly sliced lengthwise
2 large carrots, thinly sliced lengthwise, about 2 inches in length
1 medium onion, sliced
2 cups bean sprouts
225 grams rice noodles
1 to 1 ¼ cups pad thai sauce
½ cup freshly chopped cilantro
⅓ cup chopped green onion
2 tbsp canola oil
1 tbsp garlic puree
1 lime
Directions:
1. Place the noodles in a large heatproof bowl and fill with boiling water. Let sit until the noodles soften or as directed on the package.
2. In a wok, heat oil over medium-high heat. Add the garlic puree and stir for about 5 seconds. Add the chicken pieces and continue to stir periodically.
3. Once the chicken is almost cooked, add the red pepper, carrots and 1 cup of bean sprouts. Continue to stir periodically until the vegetables have cooked.
4. Add 1 cup of pad thai sauce and stir to combine all ingredients.
5. Drain the water from the noodles.
6. Add the rice noodles and gently stir together to combine all ingredients. Based on the amount of chicken and veggies, you may feel that more sauce is necessary.  If so, add an additional ¼ cup of pad thai sauce or a couple of tablespoons of soy sauce.
7. Add the cilantro leaving some out to sprinkle on top and gently combine with the noodles.
8. Pour all contents of the wok onto a large serving platter. Top with the remaining bean sprouts, chopped cilantro and green onion.
9. Spritz some freshly squeezed lime juice on top if desired or serve with lime wedges on the side.
BIO: Jasmine Daya is a Personal Injury and Trial lawyer based in Toronto, Canada, but her passion for cooking led to the release of her first cookbook JD In The Kitchen: Indian Appetizers and Chutneys