by Junita Thakorlal
Toned arms, firm butts, big chests, wide backs, ripped abs…let's face it, anyone who goes to the gym and puts themselves through constant grueling work out sessions, wants to look and feel better.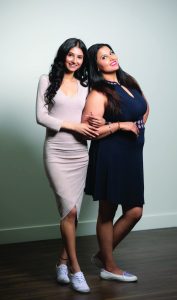 To those that gym, I say, "bravo!" Because I know exactly how hard it is to keep the routine despite the lure of a lean and sexy body.
Obesity is on a steady incline. According to Statistics Canada, 12% of all Canadian children are affected, and so it seems that being active is almost mandatory. For many adults, getting into the gym seems like a stretch, literally. Some simply have difficulty getting active and staying that way.
I tried to get in touch with a few different personal trainers and gym owners to share their 'secret sauce' for having buns of steel. The big reveal is that there is no secret sauce, and it was all chalked up to plain old fashioned hard work.
"The secret is, there is no secret," says Taren Grewall, Kinesiologist, Personal Trainer, and owner of Tonicity Fitness. "It's all about having a plan and staying consistent. Next, find a balance that works for you between a balanced meal plan and exercise. Allow yourself a treat once in a while. My rule is 90:10, stay on track 90% of the time and allow yourself to indulge in a guilty pleasure 10% of the time."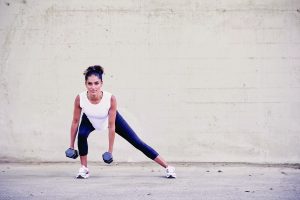 Sounds pretty reasonable, doesn't it? Especially where guilty pleasures are involved. Taren may be tiny to look at, but she packs a powerful punch as she coaches women to achieve stronger bodies and healthier lifestyles through her Vancouver-based gym. "I have my clients on a 21-day habit checklist when they first get started, to keep accountable."
When it comes to lifting weights, Taren advises, "hire a professional, it is an investment but it's worth it. Having the proper form and technique will accelerate your results, give you the confidence you are looking for and prevent you from injury. Not to mention if you hire the right trainer, they will make the process enjoyable and something you're more likely to stick with. Even as a personal trainer, I have a trainer – it keeps me on track and keeps my health a priority when I get too busy. Oh, and one more thing, don't ever feel judged, everyone, starts somewhere!"
Her website claims that she is a professional ass-kicker, to which there is no doubt. She created the Tonicity Training System – a specialized combination of strength and circuit style resistance training that helps women get toned. "The most common question I come across is 'will I get bigger if I lift weights?' The answer is no! Diet and meal planning is the biggest culprit when it comes to gaining size. To lift weights and see a huge change in size would take very specific training and lots of volume."
The main objective here is to get into shape. There is worldwide growing trend in a dance-cardio called Pound, taught by over 11,000 instructors in over 50 countries. These workout classes fuse rhythm and cardio by combining pilates, cardio, plyometrics, and isometrics movement. Pound's 45-minute class will burn 600-900 calories (yes, we're serious) all while using weighted drumsticks called Ripstix. We call this form of exercise Dandiya Raas which is a traditional folk-dance from the states of Gujarat and Rajasthan, India but hey, what's in a name?
Indian and Bollywood dance is gaining popularity with the increase of cardio dancing such as Pound and Zumba. Two life-long dancers, Ericka Virk and Karima Essa, have taken their craft to the i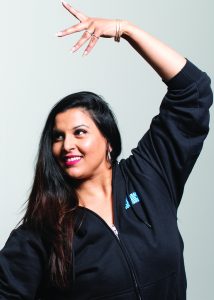 nternational stage and now teach dance to help women and children get into shape and stay active.
Dancing since the age of four, Karima is now a full-time Bollywood dance choreographer and Zumba, Bhangra, and Belly dance fitness instructor whose passion for dance took her on-screen for CTV's Bollywood Star where she finished as a finalist for two years running. "Dance allows the divinity of my spirit to take the stage," she shares with emotion as she recounts her first stage performance at the age of five. "Anil Sharma was performing at the Richmond Jamaat Khane (mosque) and needed me to keep the crowd engaged while they were waiting for a wire for the mics to begin the show. I've been performing ever since."
She has worked with Bollywood casting directors Mukesh Chhabra and Homi Adajania, and Canadian film director Richie Mehta. Today, she teaches at iDance Vancouver, Oxygen Yoga and Fitness West Vancouver, North Vancouver, and conducts private and online tutorials from Victoria BC, where she currently resides. She is touring British Columbia throughout the year through the ArtStarts program, teaching kids from Kindergarten to Grade 12 to get their booties shaking to Bollywood music. "Kids now look at dancing as a religious indicator, saying things like 'you can't do Punjabi dancing because you're not Punjabi.' This is the type of cultural barrier that I hope to crush alongside getting these kids to be more active."
A true star, she now has an agent through which she is booked to teach at various elementary and secondary schools throughout the province. She asks me earnestly, "we are only given one body with 206 bones and over 600 muscles, and if I can create a space where you can be free of medications, obesity, anxiety, depression, or any other internal obstacle stopping you from dancing the way the body was meant to dance, wouldn't you want that?"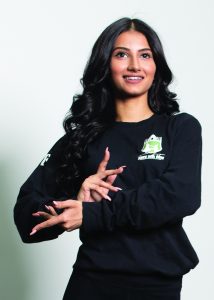 Meanwhile, Ericka Virk has been dancing since the age of two and teaching since the age of 16. Alongside being a model and working on her acting career, she is the founder of Dance with FilmE Academy which has four locations across the lower mainland and rapidly expanding. "Dance is a form of expression and performing allows me to be free and release that expression in multiple ways," she claims. "To be free in a world that is constantly trying to mold and change you is a feeling that cannot be put into words."
Teaching and performing all-girls Bollywood, Bhangra, and Gidha dance forms, she feels that teaching exercise through dance is her calling. Her signature tribal anklets ring as she spins, showing off her fun dance moves. "Dancing is a form of fitness that isn't very strict. Unlike other sports, dancing gives you leeway to move your body as you please and at a level that you feel comfortable with," says Ericka as she demonstrates. "Dance can be recreational or competitive and I think that is what I enjoy most about dance, as do my students."
Having an Instagram following of 32,000 and growing, Ericka claims that keeping a positive attitude is everything when exercising, especially for women and children who are easily impressionable. "I've been given the gift of being a role model for young girls who follow my work and learn from me. They inspire me as much as I inspire them, and dance is the conduit," she says. "And sweating together helps too!"
Both Karima and Ericka agree with Taren about heathy eating and opting for meal planning. When it comes to nutrition, we have been conditioned to think about counting calories rather than consider the nutritional benefits of the foods we consume. Consuming more calories than we burn off will lead to those extra calories being stored as fat in our bodies, but the tricky thing about counting calories is to actually understand them: consuming 100 calories of broccoli is different than consuming 100 calories of French fries.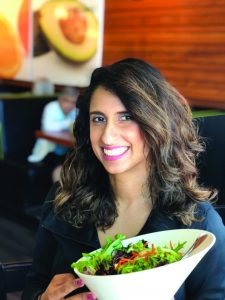 "If you are trying to lose weight, you will need to create a calorie deficit by eating less than your body burns off," claims Jas Rai, owner of four locations for the growing quick food restaurant chain The Chopped Leaf. "And the issue with calorie counting is that often people just eat less, thinking it's the solution to weight loss. But then they find that lack of energy hits them, and they immediately binge-eat carbs which the body is craving."
She was kind enough to go easy on me and my 668 calorie Bangkok Wrap, not having realized that I ordered the most calorie-rich item on the menu. "We make subconscious decisions about what we eat, not really thinking about the extras in our sauces or cutting out carbs like noodles," she says referring to my wrap, which was so tasty that I could not even pause biting into while she spoke. "Take for example my salad, I cut out the extras and used balsamic dressing so it's only 370 calories. But it has a balance of everything that my body needs for my work out tonight."
To better understand what we are consuming, Jas teaches us, "it's about portions and nutritional content. For example, if you're trying to lose weight, you may think a salad is the way to go. It is, but what are you putting in the salad? Does it have feta cheese or croutons that you can cut out and instead opt for extra veggies? Does your salad include a source of protein like chicken or tofu? And can you opt for green tea instead of the sugary pop or Frappuccino? Do you watch how much sodium and carbohydrate is in your daily intake? It's these small things that really add to your waistline."
The Chopped Leaf in Morgan Crossing, Surrey was rammed at 1:30pm with people from all walks of life, not just the uber-fit. Serving up bowls, wraps, salads, and soups, Jas is now offering catering options for businesses and meal preparation programs for people on the go through her four locations at Morgan Crossing, Willowbrook Drive, King George Station, and Brickyard Station. "Eating healthy doesn't have to be about having a boring salad. There are so many options if you watch the nutritional content and have portion control," she says.
Be it getting fit by doing cardio exercise and lifting weights to activate our muscles, or by watching the foods that we consume, here is what I've learned by talking to these four amazing women:
1. be consistent with my exercise
2. give my body the proper fuel and avoid processed foods
3. remove temptations that are full of unnecessary sugar or salt
4. keep a positive attitude
Just like anything else in life, if you put in the time, you will yield the results. And always keep it body positive, no matter how difficult your fitness goals may seem. Here's to better health!