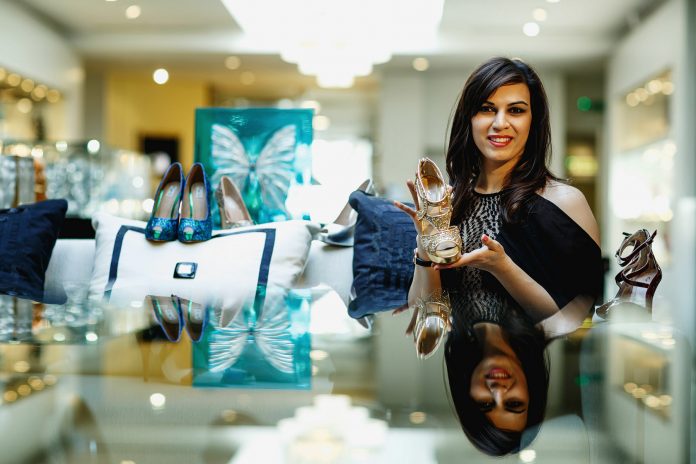 How Kari C. turned her passion to profit, and still manages to give back to women entrepreneurs in Africa through her private shoe label.
Shoe addiction is real. Wanna know what PMS really stands for? Purchase More Shoes, and nothing cures cramps like a new pair of shoes. Actually, there is literally nothing a little bit of retail therapy can't fix. And Italian-made shoes? Now we're talking!
Oh, did you say that proceeds from the sale of shoes goes to help finance women entrepreneurs in Africa so that they can create better lives for their children and families? Hello! Count me in because even our spirit animal Carrie Bradshaw couldn't resist.
Canadian shoe designer Kari Chaudhry embarked on a journey in 2013 that took her from Toronto to New York to London, UK where she launched her eponymous label The Collective by Kari C, and opened her first boutique in 2015. With design credentials from fashion influencers like Alexander McQueen and Harrods Womenswear, she developed an eye for detail, a flair for glamourous design, and quality craftsmanship associated with luxury brands. Today, her shoes are handcrafted in Italy, making for an eternally chic addition to your wardrobe.
We had a chance to speak with the shoe maven.
Why shoes?
I loved the complexity and technical challenges involved in creating shoes. No two feet are the same and the possibilities endless! It also helps that it is my favourite accessory! I have since expanded into creating clothing and thoroughly enjoy that as well.  
I

s it true that we can actually customize shoes to our specific fit?
Yes! Some women have a hard time finding shoes that fit comfortably, or to their size so I offer a bespoke service from creating a new design from scratch to where clients can customize shoes from my current collection.
You now curate other brands in-store and online. How does this affect your own brand?
The brands I stock in my boutique reflect the same message as my own shoes: comfortable, quality items suited to a luxury market. I have also expanded into creating clothing, more statement pieces focused on cocktail dresses, jackets and evening wear. All products we carry, whether it's my brand or other designers, are selected by myself and my team to reflect the ethos of The Collective Boutique – a destination concept boutique where great shopping experience meets fashion, art and lifestyle.
Describe your perfect shoe.
I love Glam rock – High heels, edgy design and anything sparkly!
Let's take it back to the beginning. Did you ever think you were on the wrong path, or did anyone ever discourage you from pushing forward to achieve your dreams?
My family has always been very supportive, and the drive behind what I do, and that's all that matters. As an emerging designer, it was natural to question whether or not you're on the right path but it's an important question to address time to time as it helps me stay on course. However, once the path has been paved, it is imperative to not lose focus, for me that could've been a deterrent from achieving my dream more than any external factor.
What is your motto for success?
Hard work – perseverance – love what you do and do it with conviction and passion. There is no room for mediocrity in this competitive world.  
How does the Microloan Foundation work exactly?
In countries where women and girls are often marginalized, the Microloan Foundation gives them status and the confidence to grow within their own communities by providing them with small loans and tools to start their own businesses. I joined the women's development board for the Foundation because I felt that as a female entrepreneur who had all resources at her disposal, I felt passionate about helping these women achieve what they think is the impossible. And we are creating female entrepreneurs every day! Through a program I created called Soulful Steps, 100% of the proceeds from the sale of some the shoes on my site directly benefit the Foundation. These efforts of the Foundation have a direct impact in the sub-Saharan region where 80% of women served have seen increased financial independence, 60% less children have dropped out of school, and 71% of families have improved food security. Soulful Steps is just the beginning as Kari C. is in the process of launching other efforts to further amplify benefits that empower women.
The 2018 wedding season is upon us. Can you tell us what trends we can look forward to?
Pastels and a feminine, whimsical feel but still practical and wearable beyond just your wedding day. We're seeing a lot of request for floral motifs and the trend for crystal embellishments continue. I love creating highly texturized looks so combining embroidery with beads or a satin with floral motifs in leather. Anything with movement like tassels, and they make for great boomerang shots!
So there you have it.  You can be a bad-ass, rockstar, shoe-a-holic and still do good in the world.  Like Marilyn Monroe said, "Give a girl the right pair of shoes and she'll conquer the world."
by Junita Thakorlal