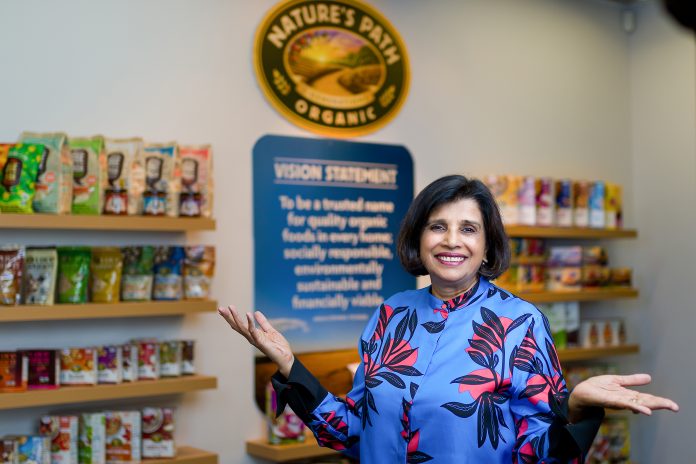 by Junita Thakorlal
Canada's most powerful woman. The title suggests someone tall and brash – you would have to be if you were recognized in such a manner, not to mention being named one of BC's 50 Most Influential Women, YWCA Woman of Distinction, and Profit Magazine's Top 10 Female Entrepreneurs, and your husband won the coveted title of Ernst & Young's Entrepreneur of the Year in 2002, wouldn't you?
As I entered the Nature's Path Foods office in Richmond, BC to meet the co-CEO and winner of all of these accolades, my anxiety was replaced with delight as my attention immediately went to the enormous display of products jammed wall-to-wall. Cereals, granola bars, oatmeals, waffles, chips, cookies and pastries in every flavour imaginable lined the wall.
Organic food? Sounds pretty healthy to me, healthy being boring and bland. But with over 150 products on the shelves of grocery stores and organic retailer across 50 countries, this particular brand of heathy eats was a sure-fire hit.
Her voice came booming from down the hall and as I turned around to greet it, I was met with this tiny woman who carried a warm and welcoming smile. "Oh great! You have met all of our products," said Ratana Stephens as she rushed to greet me, holding my hand as she carried on chatting about the Love Crunch line that her grandchildren love. "Try the dark chocolate and berries, if you don't love it then let me know."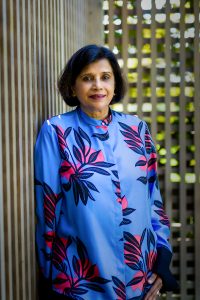 She was right, it was like cheating on my diet with an indulgent chocolate ganache cake with a hint of raspberry coulis. "This is healthy?!" I asked incredulously with my mouth full, to which she winked and smiled at her newest fan.
Stephens runs Nature's Path Foods with her husband, Arran Stephens. After breaking barriers by marrying a Caucasian man for love just 22 years after partition, she moved to Canada in 1969. Dressed in a saree, she began working in a restaurant earing $1 per hour. But, she knew she wanted more out of life. After earning her Bachelor of Arts in Psychology and Sanskrit and Master of Arts in English Literature, she and her husband Arran set out to create a movement on their own in the food industry. They opened Canada's first vegetarian restaurant in Vancouver, The Golden Lotus, followed by Woodlands Natural Food Restaurant, and then Lifestream in the early 1970's, which was Canada's first natural food market and manufacturer. Nature's Path Foods began in 1985, Canada's first certified organic food manufacturer.
"Over the decades, my husband and I have created businesses that embody and nourish our passion for people and planet," shares Stephens. "We stand for the earth first. Our consumers know this because our products are always organic, our facilities are zero waste, and we're on a collective journey to become climate neutral. Arran was taught at an early age to 'always leave the earth better than he found it.' This is the guiding principle and mission of our company, still to this day. Driven by this mission, our continued goal is to be a trusted name for quality organic foods in every home by adhering to a triple-bottom-line standard of first being socially responsible and environmentally sustainable, then financially viable. One cannot exist without the other."
Today, Nature's Path Foods employs over 700 people in three manufacturing facilities and is recognized as one of Canada's Greenest Employers. Their dedication to their company mission also won them in 2017 the Rabobank Leader in Sustainability award and having all of their manufacturing facilities certified by the Zero Waste Business Council.
"Knowing that our production—from farm to table, is done organically—without toxic chemicals or GMOs, is our way of conducting business responsibly. To me, success is knowing that at the end of the day, my life and actions have made a difference," she shares earnestly. "I feel successful when I read letters of thanks and positive comments from people who are truly satisfied with and love our company and what it stands for. And, knowing that we can contribute to the communities we live in gives me deep satisfaction and a sense of success."
However, the road to success for Ratana and Arran Stephens wasn't always smooth. She shared stories of when they were building their business which included being overwhelmed financially, dealing with a lack of industry knowledge and experience, by new categories and competition from huge multinationals, not to mention being plagued by guilt that she was not home with her four children, or guilt for not being completely present at work. "Being a working mother is hard because the competing pressures of career and home life are always top-of-mind. The temptation was there to simply give up. However, experience taught us that a success is a failure that never gave up."
Finding work-life balance is a struggle everyone goes through, although some have it more challenging than others. In the case of the Stephens family, raising four children required ruthless prioritization and time-management. To this, she shares, "make the most of the time you have with your children by being present, putting them first and making sure they always feel loved."
Her advice to women who are treading the entrepreneurial path is, "give yourself permission to make mistakes. No one is perfect. Even the most successful careers have ups and downs. One cannot achieve success by simply pushing a button; it doesn't happen overnight. Success is a tall ladder — it is accomplished by climbing one step at a time. Sometimes the task seems impossible. So, you must have the strength and perseverance to keep climbing, despite obstacles you will inevitably face along the way."
"The South Asian culture is rich and nourishing. At home, the management of household duties and social activities often fall to the women. This can lead to an overwhelming sense of pressure and duty. Putting everyone else first comes with the consequence of forgetting about, and not pursuing, one's own dreams. When you do go out in to the world, take all the best parts of South Asian culture with you and use these traits to make the world a better place."