By: Manprit Bola
When we as South Asians envision our wedding, it often includes our close family and friends being involved in all the little traditions and ceremonies: haldi, mehndi, chunni, jago, and sangeet. But there is a common misconception that destination weddings somehow lose the authenticity of our age-old traditions.
Beachy resorts are dramatically increasing in popularity and with it is the demand for vendors that can deliver on traditional services. Cancun, Mexico in particular is a city that has adapted to the demand of South Asian couples looking for a blend of ritual and relaxation, with many resorts offering wedding packages that include traditional settings for ceremonies and local vendors that can deliver the services. From mehndi artists to authentic Indian cuisine, mandap décor to dhol players, Cancun is one of those places where you can definitely have your big fat authentic Indian wedding.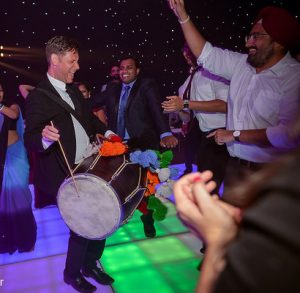 DHOL & TABLA
Instead of flying in dholis from the United States or Canada, you may want to consider the equally talented Jonathan Katz of Drums in Paradise. The main services that they offer for Indian weddings are tabla, mridangam, kanjira, dhol and more recently bhangra dancers. With having performed at over 50 different Indian weddings in 2018, it's safe to say that they must be doing something right. In the near future, they are launching the Nachda Punjab Mexico bhangra team which will be a sure-fire hit!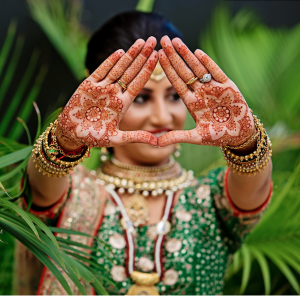 HAIR, MAKEUP & MEHNDI
Looking your best on your big day is probably the biggest concern for brides and the bridal party. Your beauty needs can all be handled by Styling Trio who have 14 hair, makeup and mehndi artists who rather enjoy the elegant drama of creating looks for South Asian brides. They are specialists in airbrush makeup which is known for delivering flawless looks in humid and tropical climates. Master artist Audrey uses organic henna mixed with essential oils to deliver dark mehndi colours for brides and their guests.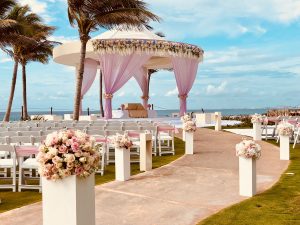 WEDDING PLANNING & DECOR
One-Stop is a concept that puts together all you need to have a destination Indian wedding in Cancun and Riviera Maya. From resort bookings to decorators, wedding coordinators to florals, Saku of Latin Asia has over 13 years of experience and is known for meeting religious requirements and rituals, and delivering on a logistical event flow that is tailored to each couple.

Other destinations such as Dominican Republic, Jamaica, Thailand, Greece and Spain have vendors that offer similar culture-specific services. And of course, sourcing local vendors from home is also a possibility as most are willing to travel.

If you are debating on having a destination wedding, let's not keep tradition as a deciding factor as it does not equal sacrificing tradition. You can still respect your culture and pay homage to your ancestors and religious beliefs while your guests enjoy your authentically Indian hospitality, and also appreciate getting some pretty awesome photos on the beach with you!
Bio: Manprit is a certified Wedding Planner specializing in destination weddings in Mexico, Dominican Republic, and Jamaica. She is the lead planner at Affine Weddings and is passionate about combining tradition, family, ritual, and celebration.