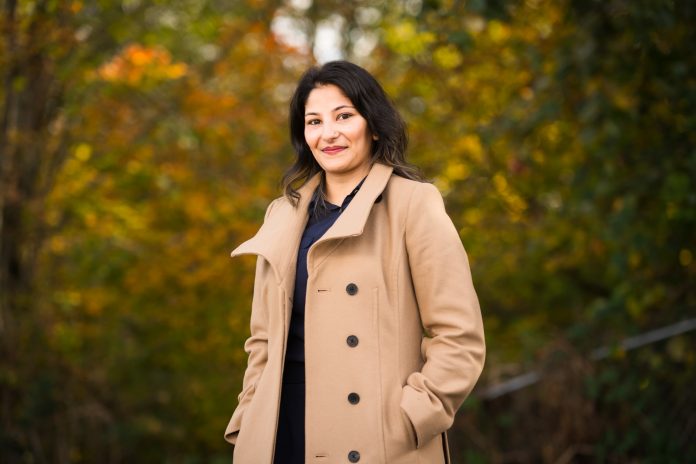 A Hands-On Approach to Back and Body Health
Dr. Priscilla Narotam realized her passion for medicine and spinal therapy at an early age. After studying biology at Simon Fraser University and fascinated with the structure and function of the brain and spinal cord, her obsession grew.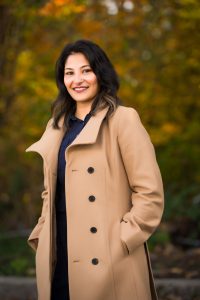 Leaving her family and friends behind, she moved to Portland, Oregon to pursue her Doctorate in Chiropractic from The University of Western States. Six years after she began her career, she took the plunge and opened up her own clinic, Windsor Square Chiropractic and Massage Clinic in South Surrey with the help and support of her husband Terry Sihota.
"I was pursuing my medical degree but after I researched the nervous system, I just fell in love with it," recalls Dr. Narotam from her university days. "There is something about being more hands-on with my patients that is manual, conservative, and with no prescriptions that really appealed to me. I'm glad I chose to follow my passion, it allows me to give my patients a full treatment plan with the motivation only for their overall wellbeing."
"It's not just about adjusting and 'cracking' the back, this is why people may be apprehensive to see a chiropractor," Dr. Narotam explains. "It's so much more than that."
Dr. Narotam specializes in body mechanics where with her hands-on approach, she will scan the entire spine to pinpoint exactly where the target areas and trigger points are that will help patients relax and heal. "I ask a lot of questions because patients may be apprehensive to share the details of their injury, or simply don't realize what could be triggering their pain," she says, also sharing that speaking in English, Gujarati and Punjabi also help put her patients at ease. "I have a genuine interest in their health and history, and it's easy to treat the root cause of the problem when patients are open to sharing information."
She claims that the most common issues are neck pain and low back pain. "Someone will present with headaches and numbness down their arm so then it's easy for me to determine the cause. Physiotherapy and massage therapy will work to a degree but doing a combination of physio, massage, and chiro complement each other and get the joint to mobilize."
Physiotherapy is exercise, getting the muscles to move and flex the way it was prior to the injury. Massage encourages relaxation so that the injured area can be ready for exercise. Chiropractic is joint and nerve therapy. "I use specific movements and techniques to realign the skeletal system, relieving pain and improving mobility."
"The majority of arthritis and migraine patients I see are female. When I find the tension spots, I find the root cause is usually in the joint or neck. Sometimes it's hormonal, in which case I might prescribe an herbal remedy to help stabilize the hormone imbalance should it be required," claims Dr. Narotam. "If it's a soft tissue injury, I might do hands-on stretching to help relax the muscles prior to adjusting, in which case I might prescribe muscle strengthening exercises to take home. Each case is different."
Many extended health benefit plans now include Chiropractic treatments as reimbursable, and in the case of an ICBC claim, Chiropractic care is also included in most cases. "I am part of the flat fee program through ICBC where patients don't pay anything up front. As soon as inflammation is gone, I can see patients right away. Based on the severity of the injury, I might recommend 1-2 times per week to start but the human body is such that each injury is different from the next and it would be difficult for me to guess that how long each patient's treatment is. Health is not cookie-cutter, it truly requires examination of the body and nervous system for me to diagnose properly. But I can request ICBC to send in additional coverage after the first three months of treatment should it be required."
Windsor Square Chiropractic and Massage Clinic is located in a healthcare-oriented building which also contains a physiotherapy clinic, dental and neurologist offices, and a sleep well clinic. Only 1 block away from Semiahmoo Shopping Centre, the bustling and growing neighbourhood in South Surrey is minutes away from where King George Boulevard meets 152 Street. "I didn't choose South Surrey, it chose me. I walked into the office and I knew it was mine. It just felt right," she shares.
Dr. Narotam is daughter of Pravin Narotam, long-time volunteer with the Surrey Board of Trade. " I must admit, it was challenging to branch out on my own, learning the billing and administrative side of the business which you can't learn anywhere except when honing your own business acumen. This is where my dad helped me a lot. He has been in business banking since the 1970's, and he built his own business network through hard work and dedication. I plan to do the exact same."
To book an appointment with Dr. Narotam, contact Windsor Square Chiropractic and Massage Clinic at 604-535-1242 or visit their website www.windsorsquarechiropractic.com.