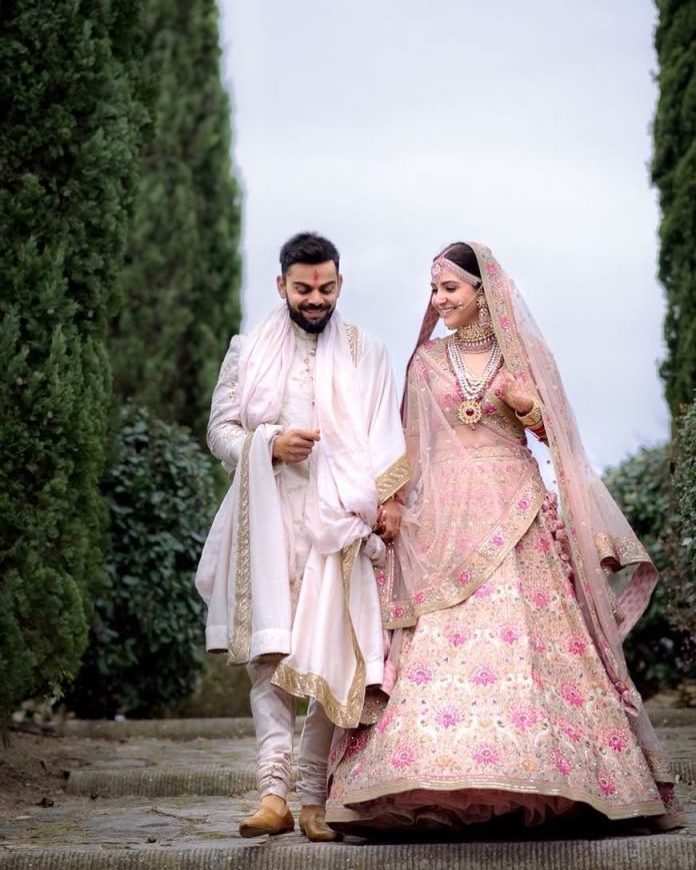 RELATIONSHIP ADVICE FROM BOLLYWOOD'S POWER COUPLES
Whether it's love at first sight or a deep friendship that blossomed into a deeper love, we love the thought of fairytale relationships and weddings. Let's stroll through the love-filled journey of a few Bollywood celebrities who have inspired us and have given us legit relationship and marriage goals: they know how to keep their careers and their personal lives in check, they keep their family values first, they keep their personal issues discreet, and give respect to their partners.
#newlyweds
Anushka Sharma & Virat Kohli
Dec 11, 2017
Bollywood and cricket are the perfect pairing because they have given us 'Virushka'. The wonder boy of cricket, Virat Kohli and the Bollywood queen-of-hearts, Anushka Sharma are now officially man and wife, and are the epitome of fairytale by our standards. They are a rare couple who never fail to impress their fans with their camaraderie, they praise each other publicly and have never shied away from PDA, publicly supporting one another despite some rough times and negative press.
Virushka met on an ad-film set and sparks flew. Their love blossomed and after a while, they were just inseparable. Having dated for a few years, the couple decided to tie the knot in a fairytale wedding setting in one of the most gorgeous and luxurious locations, the Borgo Finocchieto in Tuscany, Italy. At first, fans thought it was a hoax but they tied the knot in a discreet ceremony organized by Shaadi Squad. They had fresh flowers flown in from Holland, textiles and decor from India, they wore Sabyasachi couture ensembles, and catering was by celebrity chef Ritu Dalmia, giving perspective couples some serious inspiration around the globe! Together, their net worth is estimated to be over Rs 600 crore, or Canadian $120 million so they can afford luxury at its finest.
Virat makes for perfect husband-material with his cute posts on Instagram, whether it's complimenting Nushkie's acting prowess, supporting her decisions, or just professing his love. We'd say these small gestures or words only strengthen a relationship and respect for your partner. And, we love how Anushka is there to cheer him on during his crucial matches.  This power couple is definitely goals all around.
"I don't know if before I met her if the moon or the sunset were as important." 
~Saif Ali Khan
#fairytaleromance
Saif Ali Khan & Kareena Kapoor
Oct 16, 2012
Undoubtedly, 'Saifeena' make for one the most influential and good-looking couples in tinseltown. Saif is the the Nawab of Pataudi, a princely state in Northern India established under the British Rule in 1806. Although India abolished the royal titles and states in 1971, who can contest that Saif comes from a royal bloodline which includes the last Nawab of Pataudi, famous cricketer Mansoor Ali Khan Pataudi, and his mother, an Indian film actress Sharmila Tagore? Kareena can actually claim that she married a prince!
They each have built their successful film careers independently, although being from Bollywood royalty helps a little. Some would say that they are followed by controversy, but we like to think that they make their own rules which are unconventional at times, but it works for them. Love blossomed between the two while working together in the beautiful locations for the film Tashan which include Ladakh, Kerala, and Greece. Rumour had it that she had dropped her then boyfriend, Shahid Kapoor and ran into Saif's arms, and there was no looking back ever since.
Age is no bar for these two love birds since they are ten years apart, but that didn't stop Saif from falling in love; he even tattooed Kareena's name on his forearm! They happily dated for nearly five years, they moved in together for a while, and finalized their nuptials through a simple registered marriage in 2012. Last year, they became proud parents to baby Taimur who has already captured the hearts of his fans.
Kareena continues to be a showstopper, juggling time for movies, motherhood and Saif. The couple are often seen making stylish appearances together at various events, awards, parties or simply heading out for romantic dinners and trips. The duo has never shied away from professing their love and support for each other in public. Kareena is also very supportive and friendly with Saif's children from his first marriage to Amrita Singh, to which we applaud. We love that she is committed to Saif in all arenas and works to eliminate any insecurities to keep the family together.
She is the quintessential leading actress who refuses to give up on her career post marriage or pregnancy, and we look forward to seeing her on the big screen in her upcoming film Veere Di Wedding where she stars with her bestie Sonam Kapoor.
"

He is original and real, like our relationship.

There is nothing predictable and boring about 

our life. We nurture each other.

"

~Aishwarya Rai Bachchan

#friendshipfirst
Aishwarya Rai & Abhishek Bachchan
April 20, 2007

How does one wake up everyday to the most beautiful woman in the world? Abhishek must know how lucky he is – first Aishwarya became Miss World, then she was voted Most Beautiful Woman In The World, and she has even hit the Forbes' most bankable stars list. Interestingly, the two had separate love interests when they first met on the set of Dhaai Akshar Prem Ke in year 2000. Then, Aishwarya was dating Salman Khan and Abhishek was engaged to Karishma Kapoor. They slipped into friendship when on and off set but they finally wore out of their respective relationships, and friendship turned into romance between 2005-2006 when they filmed for Bunty Aur Bubli, Umrao Jaan, Dhoom 2, and Guru.

After 10 years of marriage, and a beautiful daughter, this power couple still makes headlines with their date nights, family outings, red carpet sightings, and movie offers. Friendship set the foundation for Ash and Abhi, who seem to weather storms together. These two are strong, successful and very much in love, still walking hand-in-hand into functions and laughing at each others' jokes which is what we all want, isn't it?

#thelonghaul

Akshay Kumar and Twinkle Khanna
January 17, 2001

Bollywood heartthrob Akshay Kumar stole hearts everywhere he went. Who can forget his on-screen sizzling performance with then girlfriend Raveena Tandon for the song Tip Tip Barsa Pani in the film Mohra released in 1994? Then, from Rekha to Priyanka Chopra, Ayesha Jhulka to Shilpa Shetty, and finally, Akshay found love with Shilpa's bestie, Twinkle Khanna, who is the daughter of Bollywood legend Rajesh Khanna and Dimple Kapadia.

Leaving all controversies behind, Akshay and Twinkle have become one of Bollywood's most graceful couples who are in it for the long haul. She loves coffee while he prefers beetroot juice. She hardly watches movies while Akshay is a movie buff, she likes art and design and writing while he is into action-packed martial arts. Despite their different upbringing and interests, it's their practicality that binds them together. Who says you need to lose your individuality in a marriage?

Akshay has been the dutiful husband who takes his family out on vacations, bakes with his teenager son Aarav, and takes his daughter Nitara for swimming on the weekends. His faith in Twinkle gave her confidence to switch careers, moving from acting to interior designing and writing.  In fact, when Twinkle initially started writing a weekly column for a leading daily, Akshay would invariably go through the write-ups before Twinkle submitted them. From being co-stars to best friends, to life partners and movie producers, these two have found genuine support and understanding in one another.

The loving duo have co-produced Padman in which Akhi has given a stellar performance. Need we add more reasons to love this couple?