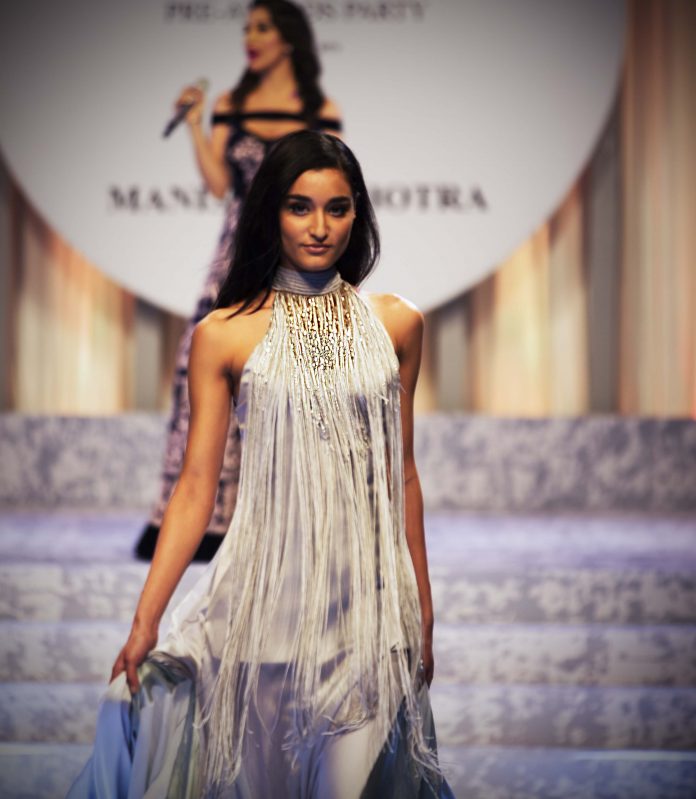 Manish Malhotra, the iconic designer responsible for giving us a plethora of fashionable movies, breathtakingly stylish heroines draped in glamourous and dramatic ensembles for over twenty-five years. In these many years, Manish Malhotra's label has been synonymous with Indian opulence, contemporary glamor, sensuousness, flowy chiffons and an interplay of colors and interesting silhouettes. A quick tete-a-tete with the humble, perfectionist or forward thinking designer on weddings, movies, journey and haute couture.
Your contributions and journey in films and fashion have been supremely unforgettable and the talk of the town for having completed over two and a half decades. Tell us about it!
My journey has been anything but conventional! Instead of mainstream fashion, I started my career with costume design. Growing up, I was, (and still am), fascinated by Hindi cinema. Although it was never planned, I got my first assignment to dress and style actress Juhi Chawla for a film called 'Swarg' in 1989, and have never looked back since.
Over the last 26 years, Bollywood has immensely evolved. I came into an industry where the concept of costume design did not exist, but it has now become a crucial part of the film. The movie's costumes have always helped the director create visual characterisation, but with time, it has become an integral part of the stylistic world the movie creates, and production process. Its importance is now acknowledged in the industry. I have always focused on giving a very distinctive style to each character, depending on his/her role.
I have had the opportunity to work with the most striking personalities in the Indian film industry. Today, some of the most beautiful women across the globe are Manish Malhotra clients. The journey has been long; but, every moment has been worth the effort.
What would you consider your biggest accomplishments, looking back at life?
I love cinema and will always be thankful for the work I have done there and the friendships I have built in the industry. But, now, I want to look ahead and focus on the expansion of label Manish Malhotra. I want to take Indian craft and fabric all over the world and nurture the brand's global appeal. However, this vision would not have been possible without milestones like – Completing 26 years in the film industry and marking 11 years of the label. Being the first designer to introduce costume styling in movies. Winning the first Filmfare Costume Award in 1995 for film Rangeela. Reaching the INR 100 crore mark – a first for an Indian designer couture brand. Opening our 9,000 square feet flagship store in Delhi – the largest single-brand couture store in India which now completes three years.
Did you have to face any obstacles in this long journey in the fraternity?
As far as challenges go, I worked really hard and perceived them as opportunities. Many people don't know this, but, I have never formally studied design. All my learning has been on the job, the upside of this is that I was never jaded by anything at any point in my career.
How has fashion evolved for Indian women and brides?
The moment one thinks India, one of the first images that come to mind is of women dressed in beautiful saris in myriad hues. Today, the modern Indian woman is mixing elements and influences from the East and West to create a sartorial identity that is unique to the global fashion landscape.
I see people dressing in tandem with their personalities and endorsing India's pride at the same time. I observe a lot more individuality when it comes to someone's personal style. To me, wearing a sari with a jacket exemplifies this shift in fashion. Brides have become a lot more experimental with their looks – they want more versatility; silhouettes that allow them to dance with their friends at the sangeet.
When you look back, how do you gauge fashion in our film industry?
While there are so many more biopics and period dramas being made, mainstream Hindi cinema is going through a shift in its approach. We have so many more stories that resonate with our lives and lifestyles. In keeping with this, glamor has become a lot more relatable. Costume styling is now less about the clothes and more about the personality and attitude that one is trying to highlight.
How would you outline a bride who dons your pieces? And your favorite muse would be?
My muse is a confident and modern woman who is also deeply rooted in her culture and tradition. She is confident and modern; someone who takes pride in her legacy and uses fashion as a tactile expression of her personality. She wears Manish for the opulence as much as the story behind the making of her outfit.
Your personal style quotient would be? What would we see you wearing at occasions or weddings?
I love the colors black and navy blue, so I usually wear these hues in different styles, depending on the event.
Your tips for the bridal-wedding season? Just what does one need to be the glam yet elegant bride?
You'll see voluminous gowns for sangeet or reception, trailing lehengas, kalidars with pants, jeweled necklines, cut out and low back or off-shoulder blouses in classic reds, powder pink and emerald green with modern lehenga. An innovative hue, a beautiful interpretation of the dupatta drape, maybe a little off-shoulder. Mixing tradition and a global influence is something I would recommend.
By, Kavita Shyam