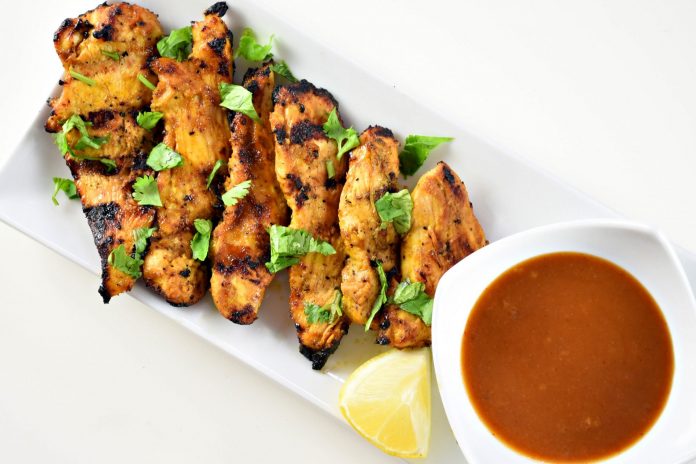 This Asian inspired recipe is easy and flavourful!
INGREDIENTS
Yield: 4 serving

2 boneless, skinless chicken breasts, sliced lengthwise
½ cup peanut sauce
1 tbsp garlic puree
¼ tsp turmeric
½ tsp black pepper
¼ – ½ tsp salt (depending on peanut sauce)
1 tbsp canola oil
Lemon or lime wedges
Freshly chopped cilantro to sprinkle before serving
DIRECTIONS
In a mixing bowl, combine the peanut sauce, garlic puree, turmeric, black pepper, salt and canola oil.

Place the chicken breasts pieces in the marinade and refrigerate for at least 1 hour.

Preheat the grill to medium-high heat.

Skewer the chicken pieces, if desired.

Grill on each side for about 5 minutes.

Sprinkle with freshly chopped cilantro and serve with a side of sweet chili sauce and/or peanut sauce and lemon or lime wedges.
BIO: Jasmine Daya is a Personal Injury and Trial lawyer based in Toronto, Canada, but her passion for cooking led to the release of her first cookbook JD In The Kitchen: Indian Appetizers and Chutneys.